As the Ohio & Erie Canal Towpath Trail grows in length (90 miles and counting!), we're seeing more and more individuals, families with young kids, and friends out cycling throughout the National Heritage Area. But what does it take to travel 30 miles along the Towpath? What about 50, or even 101 — the full length of the Towpath Trail when completed?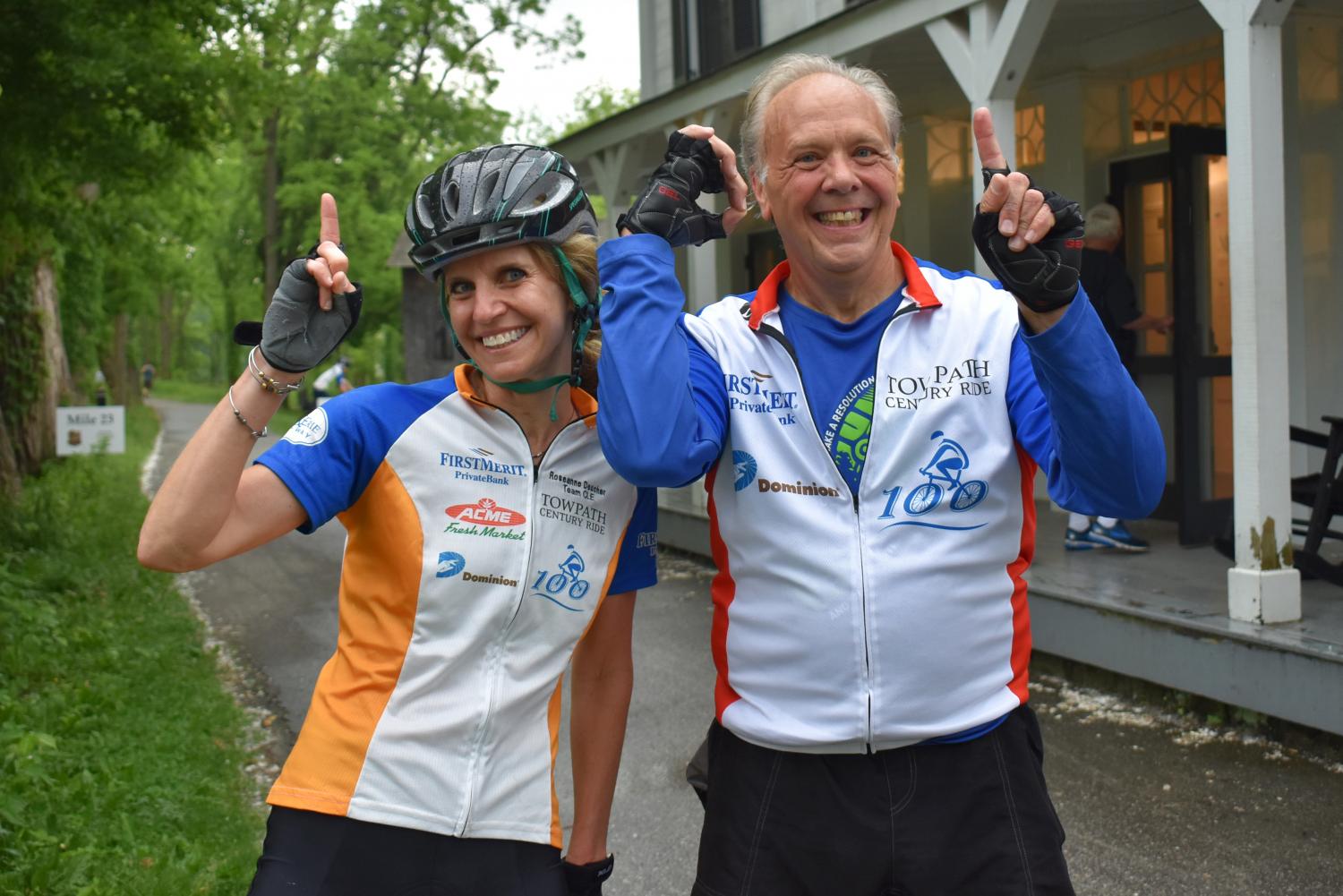 Roseanne Deucher has learned what it takes, and certainly has the cycling resume to back it up! Roseanne is not only a seasoned Huntington Towpath Century rider, having participated in the fundraising event for more than five years, but has taken part in a number of other long-distance rides across the country, including Ragbrai in Iowa and Cycle Oregon, along with traveling the entirety of the Great Allegheny Passage from Cumberland, Maryland to Pittsburgh, Pennsylvania.
"I love multi-day cycling events and sleeping in tents," Roseanne says of her experiences. "I find my 'tribe' there."
When asked what some of her favorite places to cycle are, Roseanne notes the entirety of the Towpath Trail, while highlighting a couple of her favorite spots.
"I like to start in Peninsula and ride to Tremont for breakfast. Take pic at Cleveland script sign," she says. "I really enjoy the southern segments of Towpath, too, like Canal Fulton."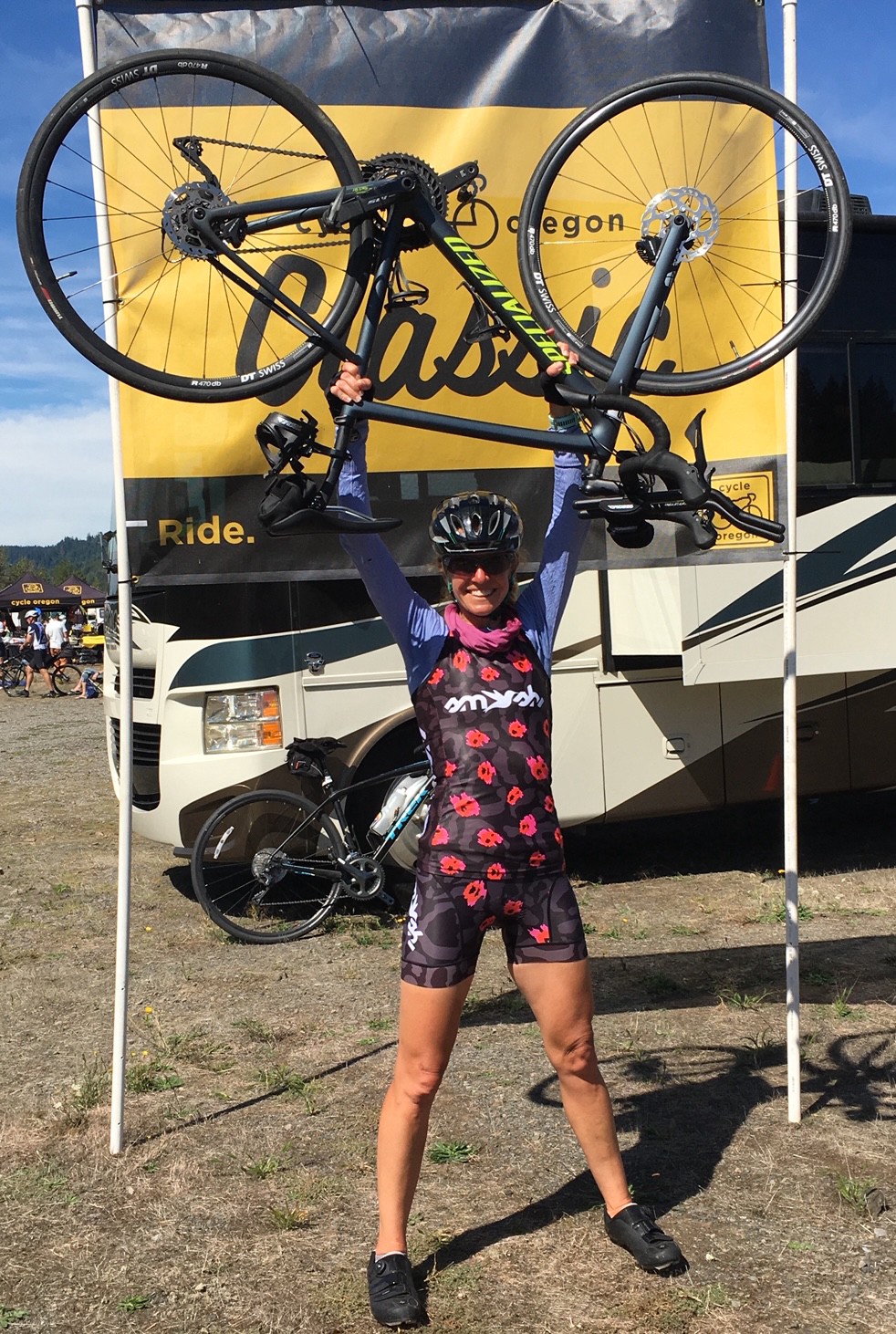 TIPS & TRICKS
Here are some of Roseanne's tips for cyclists, whether you're looking to become a long distance cyclist or just make your ride safer and more enjoyable.
Endurance. Roseanne recommends building up the amount of miles you travel in one ride over time. In regard to participating in something like the Century Ride, Roseanne had this to share: "My son once said, 'What's the big deal, you are just riding a bike?' True, but it is ALL day. You want to enjoy the ride, not just get through it."
Eat a good meal before you go for a long ride. Bring snacks. "I do hard boiled eggs. Travel well and gives me the protein I need."
Keep Hydrating — even when you are not thirsty. "I have 2 water bottles on my bike. If it is really hot with multiple days, I take salt."
Drats! You will get a flat. Know how to change it and have equipment on you. "Or if still learning, ride with a friend who can help! Thanks Pete!"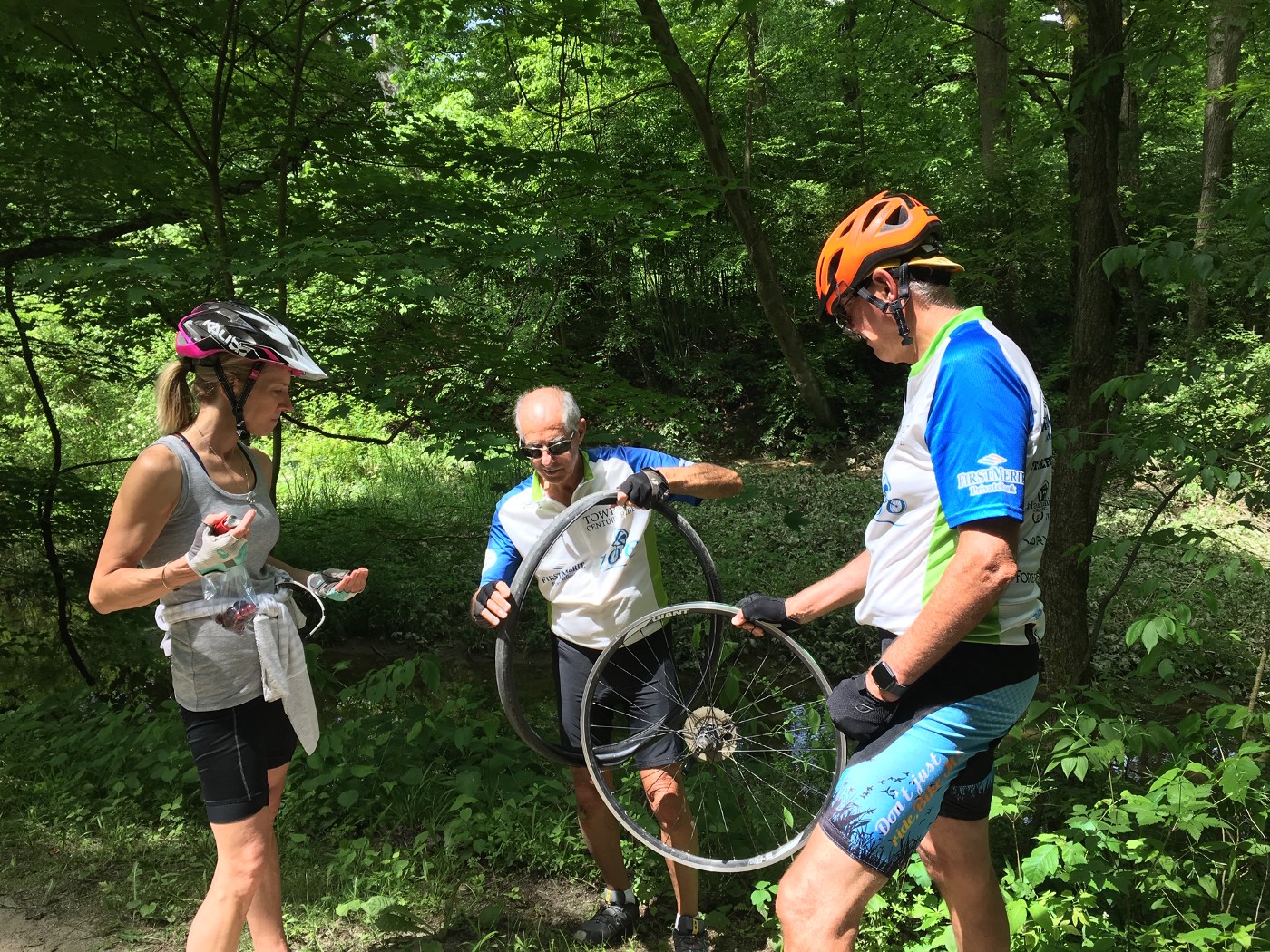 Find riders to join you. Roseanne says this makes the hours go by quicker.
Spice it up! Switch up trails and routes for change of scenery.
You are not alone. Purchase mirror for your handle bars or helmet. Be aware of what is behind you especially when moving off your line.
Protect yourself. Invest in a good helmet (it is your HEAD!) and project eyes from UV rays and bugs with sunglasses.
Find a trusted cycling shop. Roseanne says: "I like to go to the same shop and develop a relationship. When it is time to purchase equipment or upgrade your bike, you have a professional friend."
Take it inside. If you want to continue cycling year round, consider purchasing a trainer for indoor use. "Not as fun as trail, but you can ride carefree without cars, road conditions, and dodging walkers and dogs," she says.
Make it count. "After riding for years, I finally purchased a Garmin. If you can identify your target heart rate zone and monitor during rides, you can make sure you're getting a good cardio workout, not just a casual cruise. It is also fun to track your mileage."
Roseanne warns that it's easy to get bit by the cycling bug! She encourages riders to turn it into a family activity that everyone can enjoy.
"Remember why you are doing this and cherish the days when you are able to feel the wind in your hair," she says. "The friendships you make with fellow riders is a gift. Have fun! Happy riding!"
To learn more about the 2020 Huntington Towpath Century Ride and to support riders like Roseanne, visit the event website here. All proceeds from the event support the continued development of the Ohio & Erie Canalway National Heritage Area, Towpath Trail, connector trails, and surrounding public spaces. Yo learn more, visit the Ohio & Erie Canalway Coalition.