The Canal Boat Captain's Ball is the Ohio & Erie Canalway Coalition's annual auction fundraiser, in which we honor the year's Canal Boat Captain, a member of the community who has dedicated tremendous time and resources to the Ohio & Erie Canalway National Heritage Area. The event raises more than $40,000 for the Ohio & Erie Canal Towpath Trail each year. This year, it includes a virtual auction, raffle prizes, and a Fund-A-Need which raises separate funds for the annual Ohio & Erie Canalway Fishing Derby. For more information, call 330-374-5657.
The Canal Boat Captain's Ball virtual auction website will be live from May 11, 8 AM to May 18, 8 PM. Click the button below to visit the auction website.
This year, we are honoring Theresa Carter, president of the Synthomer Foundation, as our 2023 Canal Boat Captain.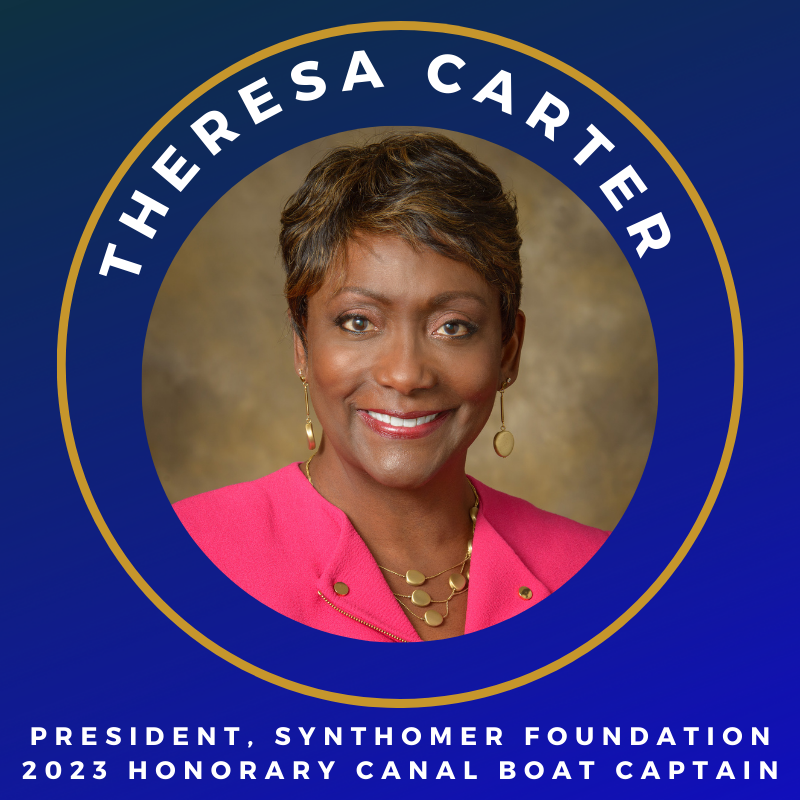 Theresa Carter is President of the Synthomer Foundation (formerly OMNOVA Solutions), a $28 million endowment supporting local communities throughout Synthomer's footprint within the United States. Her passion for bringing communities together and creating tomorrow's leaders is reflected in her role in the Foundation, which in 2022 provided nearly $1.4 million in support to educational initiatives, civic investments, health and human services, and the arts.  
Theresa's purpose-driven mission is to inspire volunteerism and empower others to give back to the community. She is active in her church, and serves on a number of non-profit community boards, advisory councils and committees, including the Akron Community Foundation; Greater Akron Chamber; The NAACP Akron Chapter; Cleveland Clinic Akron General Medical Center; Cleveland State University Foundation board; Summit Metro Parks Commissioner, and is an emeritus board member with the Akron Urban League.  
She has been honored with many awards and recognitions for her service and commitment to the community, including Arts Now Distinguished Patron Award; Goodwill Industries honoree; Akron Urban League's Whitney M. Young Jr., Community Service Award; the H Peter Burg Leadership Awards through the Greater Akron Chamber, American Red Cross and Akron Public Schools; Leadership Akron's Lieberth Award, and the Executive of the Year Award through the Akron/Canton Affiliate of NSME.  Theresa was also a recipient of OMNOVA Solutions Chairman's Award (the Company's highest honor). 
A native of Demopolis, Alabama, Theresa graduated with a Bachelors of Arts in Communications from the University of Alabama.  She's the proud mom of two daughters, Erin and Cesily and is Lovie to her grandson Devon, who is the absolute joy of her life.
To make a donation in honor this our Canal Boat Captain, Theresa Carter, click the image below.
If you are interested in becoming sponsors of the 2023 Canal Boat Captain's Ball or donating to our virtual auction, please view the forms below.
Sponsorship opportunities and form
Please note that the auction website will be available when the auction begins on May 11, 2023.
Donations can be made in honor of Theresa Carter below. If you'd like to donate at an amount that is not listed, please click here.